The strongest wheel available for all wheelchair sports. New spoke design is extremely durable - resulting in less truing and spoke replacement than any other wheel. Very quiet rolling wheels (no spoke creaking). Extremely lightweight and attractive design.
SPOKES • 18 or 24
RIM • Double-walled, custom aluminum design. Clincher only.
HUB • Custom design, CNC machined. 1/2" or 12mm bearing sizes available. 2.3" bearing spacing.
BEARINGS • Sealed cartridge R8 bearings.
COMPATIBILITY • Any sport wheelchair.
SIZES • 24", 25", 26", 700c
SPOKE COLORS • Shown below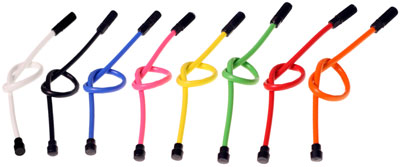 Price is for one wheel, (1 only). Axle, hand rim and tire are not included.
Spinergy SLX Wheel (Sport) 1/2" Axle
Product Code:Spinergy SLX Wheel (Sport) 1/2" Axle
Availability:In Stock