New cross spoke design (cross laced on one side and radial laced on the othe side) is extremely durable. Very quiet rolling wheels (no spoke creaking). Ultra lightweight and attractive design. Minimal maintenance required.
SPOKES • 24, 4mm PBO
RIM • Double-walled, custom aluminum design. Clincher only.
HUB • New Custom design, CNC machined. Come in Silver or Black.
BEARINGS • Sealed cartridge R8 bearings.
COMPATIBILITY • Any manual wheelchair.
SIZES • 24", 25", 26", 700c
SPOKE COLORS • Shown below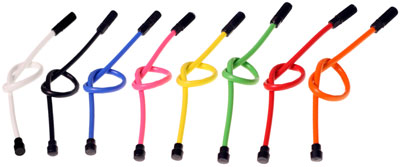 Price is for one wheel, (1 only). Axle, hand rim and tire are not included.
Spinergy SLX X Laced Wheels
Product Code:Spinergy SLX X Laced Wheels
Availability:In Stock